Professional and Personable Wedding Disc Jockey
Bowtie Mobile DJ & Sound has the professionalism, flexibility and expertise to provide your wedding with the finest quality of entertainment available. Whether your reception has all of the pomp and circumstance or you want a party with a little wedding thrown in, Bowtie DJs have the right personality to deliver the best entertainment for your money.

Planning Tools
We will help you in the planning of your wedding and/or reception. Your order of events is exactly the way you want. Look at our planning tools section to begin.
CLICK HERE

Library of Music
Over 100,000 songs to choose from and the list is continually growing. Give us a list of music you would like played before your event and we will make sure to have everything at no cost to you. Look at our Music Library.
CLICK HERE

Additional Ambiance
Depending on your venue, we will add in a small light show to enhance your dancing experience. Up-lighting and a screen and projector can also be added to your event if required. Click here for full Package Price List.
---
---
Basic Reception Package
---
Professional sound system
100K+ song database
Reception planning mettings
Small light show (if venue and time of day dictates)
Ceremony & Reception
---
Everything included in Basic package
Additional hour of time
Separate sound system for ceremony (not being held in same room)
Lapel and hand held microphones.
Additional Costs
---
If event is over an hour away from Wake Forest, NC, additional $100 added for travel.
If event is over 2 hours away, additional $150 added for travel and overnight stay.
Up-lighting can be added for additional cost.
---
Your Parties
Professionalism is our main goal. We want to make your party the best it can be. Whether you want to
"boogie or woogie, shag or wag, punk or funk" our disc jockey services are the best choice for your event.
Grand Openings
New Year's Eve Parties
Disco Parties
Nightclub
Fireworks Displays
Halloween Parties
Anniversary Parties
Birthdays
High School Proms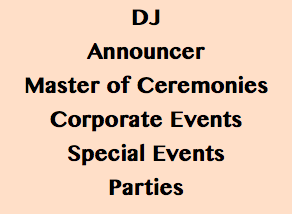 Black Tie Events
Political Events
College Parties
Award Ceremonies
Annual Celebration Galas
Fashion Shows
Festival Sound Systems
School Dances
Sorority/Fraternity Formals
Standard DJ/MC Package from $895.00  ♦  Overtime: $150 per hour or any fraction of an hour  ♦  3 hour minimum
Personalized Planning Process ♦ Professional DJ/MC
Powered Speakers ♦ Specialty Lighting System
Wireless Microphones ♦ Extensive Music Library
♦ Possible additional costs: Up-Lighting, travel of more than an hour away
*** Special school and charity pricing, ask for details ***
****Click here for a Package Price list****
---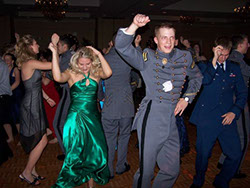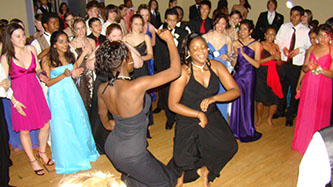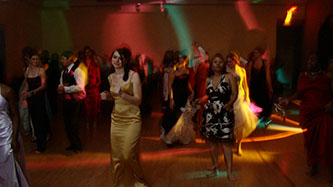 ---
GET IN TOUCH WITH US
To check our availability, please click button below.
---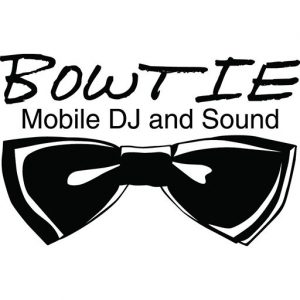 Tracy Telenko
Owner, Disc Jockey, Emcee
Wake Forest, NC
(919) 796-0969